9 Best Desks For Small Spaces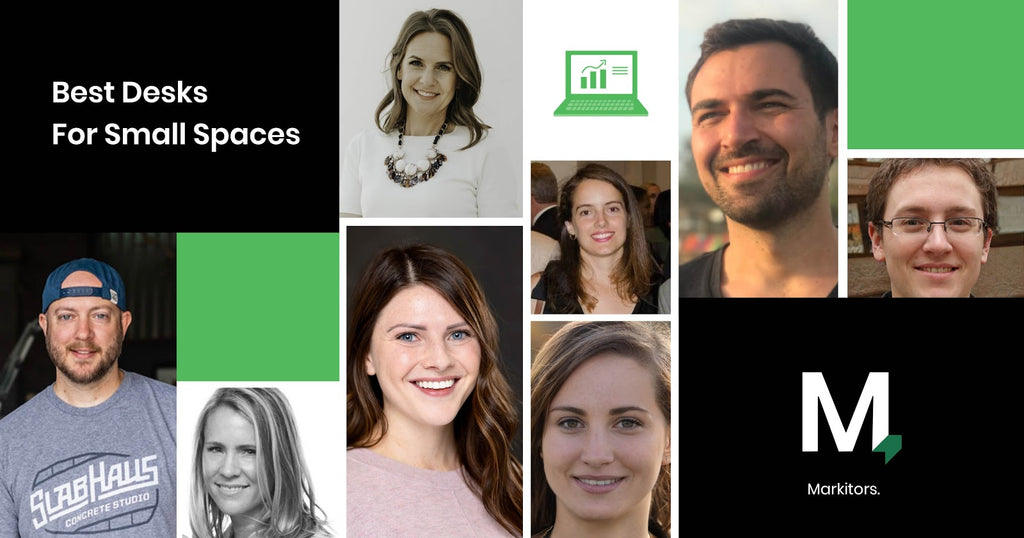 Through the transition of many people going from working in an office to remote work, small nooks and crannies of homes have had to transform into home offices! You might think that there couldn't possibly be any room to put a desk in your cramped living quarters, but with the right desk, you can turn any space into a functional work area! 
There are thousands of desk options to choose from that will fit your needs. We talked to nine professionals, all working from home, to discover what desk helps them stay productive, even while working in their small spaces. Read on to hear their answers for desk inspiration! 
1. OneLessDesk
OneLessDesk is a beautiful, ergonomic, and space saving desk by Heckler Design. With it´s unique nesting design, you can hide the lower deck beneath the upper deck, conserving precious floor space. The ergonomics of the split level decks raise your monitor to the perfect line of sight, and keep your mouse and keyboard at the perfect height, encouraging a comfortable and correct posture. The sleek OneLess Desk is made from strong gauge steel and industrial-grade welding, and features a rear shelf to hide all your cables and peripherals, keeping the desk surface clear of clutter.
2. Custom Desk by SlabHaus. 
Purchasing a custom desk can ensure you are getting everything you wish. From size to shape to color you can choose whatever you would like to customize your space. This desk by SlabHaus is a perfect example of a custom modern design for a beautiful home in downtown phoenix. They even inlaid some turquoise that was found in Tucson into the desk.
Brandon Boetto, SlabHaus
3. Ikea Desk 
Working remotely has forced myself and my coworkers to create functional workspaces in our own homes. My desk is small and is up against the wall of my bedroom where my TV hangs and I have a foam roller and yoga mat stashed in the corner. It's not ideal, but I have found that creating a space with a real desk, whether it be big or small, that I dedicate to work helps me be more productive rather than trying to work from the couch or my bed. My desk is a chap one from Ikea that gets the job done! 
Kayla Centeno, Markitors 
4. A Desk that Sparks Inspiration
My job requires me to spread out to look at blueprints, lay out fabric samples and paint swatches as well as analyze renderings, making it important to utilize every inch of my small desk. I keep it clean and tidy until there is a project to be worked on. An interior designer's desk is where the magic happens before it ever gets to the home! I have invested in my desk because it is a piece that sparks inspiration that I don't mind looking at everyday! 
Alisha Taylor, Alisha Taylor Interiors
5. Lap Desk
A few months ago I bought a little lap desk. The desk legs are about 12 inches fully extended, which makes the desk perfect for working on a couch or a bed. Since the desk is small and folds, it is also easy to store under the couch or in a closet. In a jam, it also works as a TV tray for enjoying a quick snack. I would highly recommend investing in a similar desk if you are in a small space or otherwise find yourself working from a sofa; it will protect your back and neck because you will hunch over less and have better posture. 
Michael Alexis, Teambuilding
6. Askholmen Foldable Table
If desperately short of space, try one of these handy Askholmen foldable tables from Ikea, that although built for the outside, are the perfect height for most sit down situations such as sofas, or even the end of the bed. Its not an ideal long term answer, but for those really struggling to find space, it could be an affordable and great quick fix that means you are relying on your laptop to rest unevenly on your legs, put strain on your back and eventually overheat your lap, while you look for a more permanent solution to fix your remote working woes.
Andrew Roderick, Credit Repair Companies
7. Grey Barn Sunny Banks Desk
Software desks come in various types and sizes and smaller desks that would not eat up any of the office room in your house. To optimize your storage room, search for convenient features such as portable computer desks with versatile features such as built-in shelving, overhead compartments and keyboard trays. A great feature of the Grey Barn Sunny Banks desk conveniently has a USB outlet to charge all of your electronics. If it is necessary for you to have a mobile workstation, consider a wheeled computer desk which can be conveniently transported or placed. Choose an ending complementing your home office decor.
Eliza Nimmich, Tutor the People
8. Stash Desk
The best small space desk is the Stash Desk by BlueDot. The Stash Desk draws on a familiar, elementary design with timeless appeal. It's made of solid wood with radius edges. It comes in two muted and two bold colorways, and has a minimal footprint of 42 x 24. You can stash it in almost any room and create an inspiring home workspace. My favorite part? The pencil drawer interior is painted the perfect hue of powder blue! I love that it offers something unexpected.
Arah Leslie, Arah Leslie Design
9. Brandywine Pull-Out Desk
This desk extends space even within the small bedrooms, dorm rooms, and apartments. This compact desk consists of two surfaces, one of which is disavowed and quickly pulls out from its "hiding place," which offers a temporary workspace and place. When not in use, the upper surface stands alone as home decor. There's also a drawer that keeps office supplies out of sight, and the space between the two tops provides clutter-free storage for laptops, tablets, books, and paperwork.
Julia Turner, Ring's End
Brandon Boetto