7 Luxury Home Renovation Ideas To Make Your Current Home a Dream Home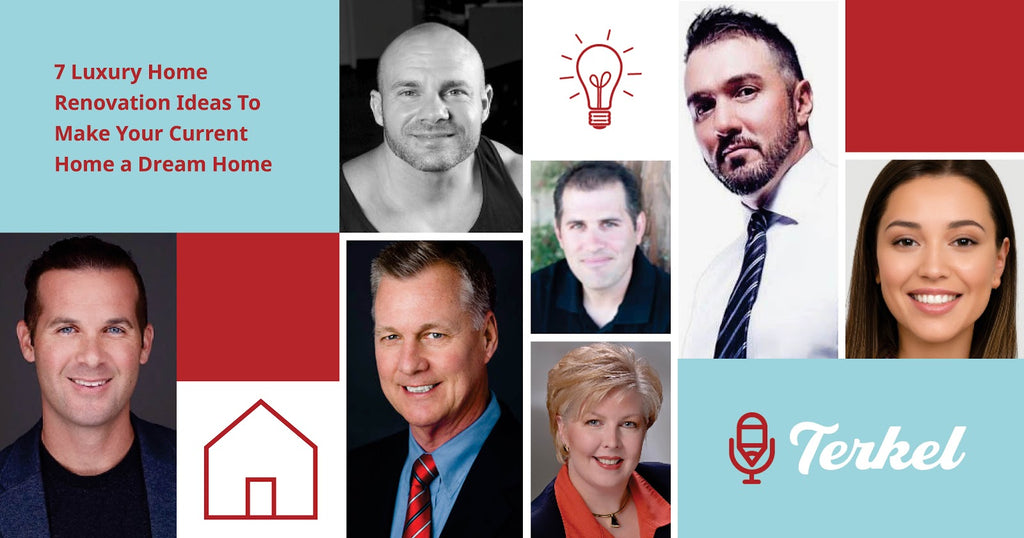 What is one home renovation idea to make a luxury home into a dream home?
To help homeowners with transitioning their luxury homes into their dream homes, we asked marketing experts and home experts this question for their best advice. From installing a residential elevator to re-doing your bathrooms, there are several tips that may help you to create your dream home.
Here are seven ideas to turn a luxury home into a dream home:
Residential Elevator
Pool Redesign
Bathtub or Jacuzzi
Re-Doing Your Bathrooms
Cigar Room
Luxurious but Functional Features
Renovations to Accommodate Your 2021 Needs
Residential Elevator
While everyone has a different definition of what constitutes a "dream" home, there is one thing we know to be true: a home is only a dream home if every part of it is accessible to its occupants. A residential elevator not only adds convenience and beauty to a luxury home but also offers flexible access to upper stories that would otherwise be inaccessible to guests and residents.
Brian Nichols, Arrow Lift
Pool Redesign
Redesigning our pool transformed our home. Adding a Baja bench to the pool added play space for the kiddos, and a nice lounge area for adult swim time. Raising the pool depth from a diving pool in the deep end to a comfortable standing depth helped extend the usable space in the pool as well. Being in Arizona, a pool gets used every day for a solid five months. Whether you're looking to convert a current home to a dream home, or just get more out of your backyard, I'd highly recommend converting an older pool into a newer version.
Brett Farmiloe, Markitors
Bathtub or Jacuzzi
As a home renovator, I absolutely love to have a bathtub in my dream home, as I could chill and relax right at my comfort place. You could increase the level of luxury by installing a jacuzzi.
Jill Sandy, Constant Delights
Re-Doing Your Bathrooms
Bathrooms are a great way to transform a property into a dream home. Small finishes such as clawfoot tubs, or even jet tubs are easy ways to put those finishing touches on a luxury home and make a dream home status. The countertop materials and even hardware for cabinet drawers should be top-quality to really put a home over the top.
Loren Howard, Prime Plus Mortgages
Cigar Room
We all have different wants and thresholds of what makes us think of something as a dream home. For me personally, it would be having a walk-in humidor and cigar room to smoke in. That is one big thing that would make my home into a dream home.
Mark Smith, UAT
Luxurious but Functional Features
Whatever renovations one is considering, ask about a universal design approach. Universal design takes into account needs at all phases of life and designs accordingly, rather than having to retrofit a design later on. For example, if you're designing a large shower in your master bath, think about designing it flat to the floor, so you can easily maneuver if you ever need to use a walker or wheelchair. Think about beautiful but functional grab bars that look elegant and spa-like now, but may serve a helpful purpose as you age. Easy to turn on handles, and a handheld showerhead can look luxurious, but are very functional for those with mobility issues. These types of design considerations can truly make your home a dream home for every stage of your life!
Colleen McManus, Senior HR Executive and Consultant
Renovations to Accommodate Your 2021 Needs
The definition of "dream home" may have changed a bit over the last year. Now, perhaps more than ever, our homes must serve an expanded purpose. More work-from-home, remote schooling, virtual meetings and visits, in-home entertainment, etc. have replaced outside-the-home activities for many of us. The "dream" home today may be the one that has been expanded or modified in significant ways to accommodate individual and family needs that have been altered or changed forever. Cullum Homes has an entire renovations division, and we are busier than ever. As we have often said, "your dream home may very well be the one you live in now" (with a few modifications here and there, of course)!
Rod Cullum, Cullum Homes
Terkel creates community-driven content featuring expert insights. Sign up at terkel.io to answer questions and get published.
Brandon Boetto