8 Cost-Effective Home Improvements That Improve Life Quality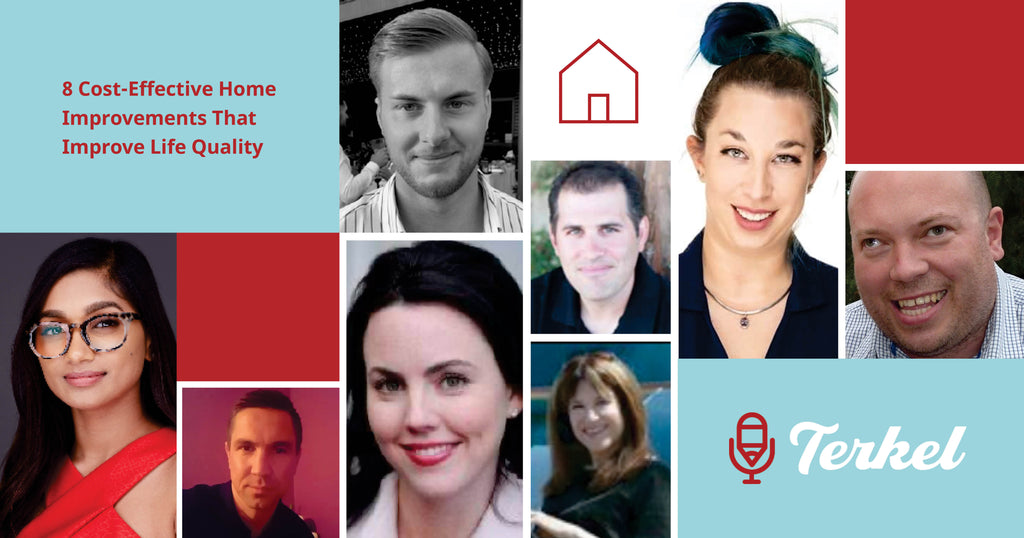 What is one cost-effective home improvement that improves the quality of life at home?
To help you find cost-effective home improvements for your home, we asked home improvement experts and business leaders this question for their best improvements. From making your entire home accessible to creating ergonomic spaces, there are several great improvements that may help you improve your quality of life at home. 
Here are eight cost-effective home improvements that can improve the quality of your life at home: 
Invest In Appliances That Will Last

Make Your Entire Home Accessible

Plant A Home Garden

Upgrade Your Home Office In A Day

Light Up Your Home

Implement Smart Assistants

Breathe New Life Into Your Home

Work In Ergonomic Spaces
Invest In Appliances That Will Last 
The best home improvements are repairs to key appliances like dishwashers, washers and dryers, or refrigerators. With fully functional devices, everyday tasks like doing dishes or laundry can be accomplished without frustration. If you're looking to improve your quality of life at home, invest in quality appliances to make an immediate impact. 
Alex Belladorsi, Appliance Technician
Make Your Entire Home Accessible  
Accessibility challenges are one of the main things that can prohibit a homeowner from enjoying all the available space in their home. Being unable to walk up and down stairs comfortably can have an impact on home life. That's why stair lifts are a cost-effective and construction-free way to help homeowners gain independence in their residence. Through a simple stair lift installation, homeowners can overcome accessibility challenges and enhance the quality of time at home. 
Brian Nichols, Arrow Lift
Plant A Home Garden 
Various low-cost home improvements can be made to improve the quality of your life, and one I would highly recommend is planting a home garden! Not only can the fruits and vegetables from your garden improve your health, but the act of gardening can also improve your mental health. For many, this activity is a mode of meditation and incredibly stress relieving. The best part is, you can get started for less than $100!
Nikitha Lokareddy, Markitors
Upgrade Your Home Office In A Day 
Set up a coffee station in your office with your coffee maker, water to refill the coffee maker, and mugs. You won't have to leave your home office as much. This adds better productivity to your workday. Make your office even more productive by bringing in more items you have to grab throughout the day, like your reading glasses, eyeglass cleaner, snacks, tissues, drinking water, paper, pens, and pencils. You have these items in your house already—just put them in your office so you get more done.
Janice Wald, Mostly Blogging Academy
Light Up Your Home
There's no limit to the change a room's lighting can bring. Plug-in spotlights for nighttime reading spark my motivation to pick up a good book. A table lamp at eye level when seated makes the room cozier. Low light is best for relaxing, while bright, decorative light can rejuvenate a quiet morning. Using energy-efficient bulbs makes for an even better upgrade as they last longer and use less power.
Oliver Andrews, Property Claim Assist
Implement Smart Assistants
Incorporating smart assistant technology, such as Amazon Alexa, can make a real difference for ease of use and disability accessibility benefits as well. We use Alexa in conjunction with our Sonos system and Spotify to easily control our music system throughout the house. Also, easy to get the weather and other quick Google-like answers. I am blind myself and love the ease of use of Alexa. A relative who is elderly and with mobility impairments also makes great use of Alexa in conjunction with turning lights on and off, which saves her from getting in and out of bed. Modifications like this are really cheap.
Dale Reardon, Travel For All
Breathe New Life Into Your Home
The best projects to tackle are the ones you can do well enough to have a quality finished product. This includes tasks like repainting. You could give the interior walls a fresh coat of paint or paint your kitchen cabinets. While you're at it, replace the hardware on your cabinets to update their look. Adding trim to a room is relatively easy. You just need to cut the trim pieces to size and install them with a few finishing nails. Another doable project is laying a laminate floor. It's time-consuming but will transform the look of your home. While retiling your bathroom may be out of the question, you can still breathe life into it with a refinishing kit. Follow the directions closely, and your tile and grout will look bright and new again.
Andra DelMonico, Trendey
Work In Ergonomic Spaces
One of the most cost-effective, meaningful home improvements that help a family enhance their quality of life, health, and well-being are ergonomic upgrades. Kids will spend hours doing homework, and most adults work at home at least part time. Even full-time moms have a lot of work in coordinating kid's activities, bills, and running the home. A home must have healthy workspaces. As CEO of an ergonomic company, I forecast that homes in 2021 and beyond that have well-thought-out ergonomic spaces will increase value when reselling. The demand is greater now than ever in history. The first step is to get an ergonomic assessment and determine how healthy your current workstations are. Small changes can be made, like keeping your existing wooden desktop and retrofitting it to make it height adjustable. Then implement solutions for function and form. So often, home office space is only considered for how it looks versus its function.
Annie Berzanski, Pacific Ergonomics
Terkel
creates community-driven content featuring expert insights. Sign up at
terkel.io
to answer questions and get published.
Brandon Boetto