10 Modern Desk Accessories For Home & Office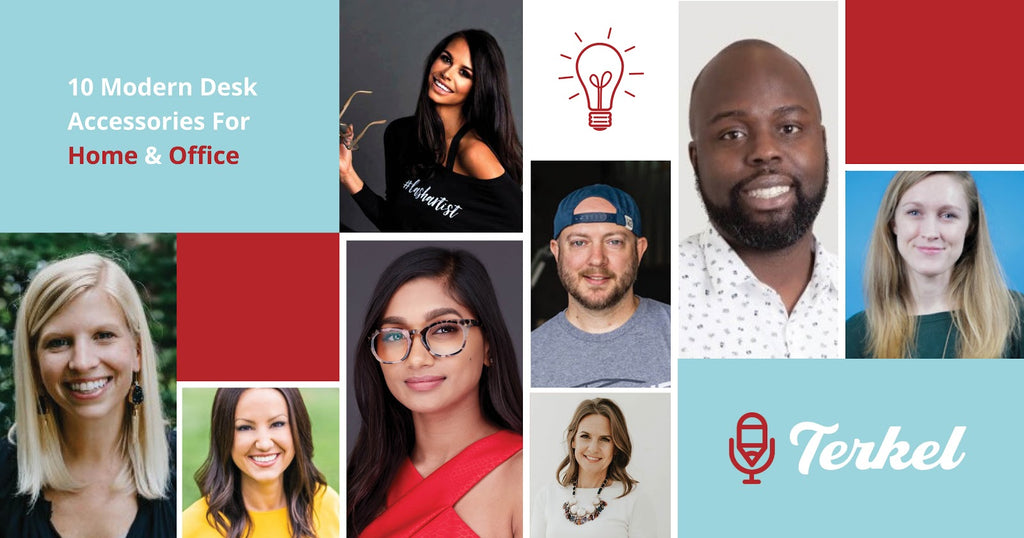 With work transitioning into our home/life space, the need for a modern and efficient home area is such a need. We have looked at getting the right desks and chairs and proper set up, but that's not all there is to a good working space. Gadgets, gizmos, working tools and accessories are all things that can not only make work easier, but also make it more fun.
Your workspaces impact not only productivity but also your overall well being. Now that we've transitioned into working at home, it is important to still maintain a productive space. We've asked several business leaders what they have done to accessorize and reinvent their office spaces.
1. David Face
This 1504 masterpiece is one of the world's most recognizable works of art and an enduring symbol of Florence. "David" stills the heart as the young shepherd who slew the giant Goliath with a single stone. Perfect for your bookshelf or gallery.
2. Ellepi Stapler
The Ellepi Klizia Stapler has become an all time favorite. These staplers have been produced for many years in the town of Cologno Monzese, Italy. It is a sleek, handheld stapler that is easy and fun to use. It looks great on a desk and small enough to go into a pocket of your travel bag or briefcase. The paint is powder coated and covers the all steel stapler that is hand assembled with care. It is a perfect blend of elegance, fun and craftsmanship.
3. Laguna Concepts Concrete Planter
Laguna Concepts is a one-man operation from Cole Smith that focuses on craftsmanship. He handcrafts concrete/ wood home furnishings from his studio in Phoenix, Arizona. A great addition to any desk!
Brandon Boetto, Slabhaus


4. Wellness Center
In the corner of my desk, I have my own little "wellness center"! It is complete with all my favorite and most relaxing accessories. My Bamboo plant, Tibetan Singing Bowl, and Predominantly Black Lavender candle bring my peace throughout my day and remind me to take a few moments to relax in between tasks and meetings.
Nikitha Lokareddy, Markitors
5. Damesely Candle
My favorite desk accessory is my Damesely candle. It has this cute saying, "Drink some coffee, put on gangsta rap, and handle it", which keeps me motivated even on the hard days!
Vanessa Molica, The Lash Professional
6. Cell Phone Holder
I use this Cell Phone Desk Stand Holder to charge my phone during the day and also help hold my phone at the perfect angle to view while working.
Kenna Hamm, Texas Adoption Center
7. Stay Humble Sign
I love my "Stay Humble" neon sign behind my desk. It's my daily reminder to look around and be grateful for every single step of this journey. Being humble and seeing humility in others is how I find my people and has led to incredible relationships in my personal and professional life. I've found that if I root humility into my ethos, doors open more easily and I find more joy.
Betsy Hauser, Tech Talent South
8. Lap Desk
I have been raving about a new addition to my "office" setup: a simple lap desk that I grabbed half as a joke on a trip to Best Buy for a new keyboard. The lap desk has a hard surface with space for my mouse, my phone, and my laptop, and the bottom has a cushion. When I'm stuck writing content, I often use a change of scenery to reset, but that's been much harder working from home. Since getting the lap desk, though, I've been able to move around so much more without losing productivity trying to balance a laptop on my knees. I've been telling everyone I know who is working from home to grab one!
Ceillie Clark-Keane, Unstack
9. Adjustable Laptop Stand
The accessory that takes my desk to the next level is a laptop stand. Sitting down and writing can also lead to a lot of pressure on my hands, and I couldn't type correctly, since my hands felt uncomfortable mostly with the keyboard. Then I came across a laptop stand and was able to improve my typing speed and precision without leaving my hands exhausted.
Derin Oyekan, Reel Paper
10. Bookends
As an interior designer, you will always be able to find inspirational magazines and books on or near my desk. To keep things organized and looking sleek and modern, I always opt for decorative bookends to keep my inspirational prints close by. I love the look of the Agate Stone bookends from West Elm!
Alisha Taylor, Alisha Taylor Interiors
Terkel creates community-driven content featuring expert insights. Sign up at terkel.io to answer questions and get published.
Brandon Boetto