8 Inspiring Small Hotel Designs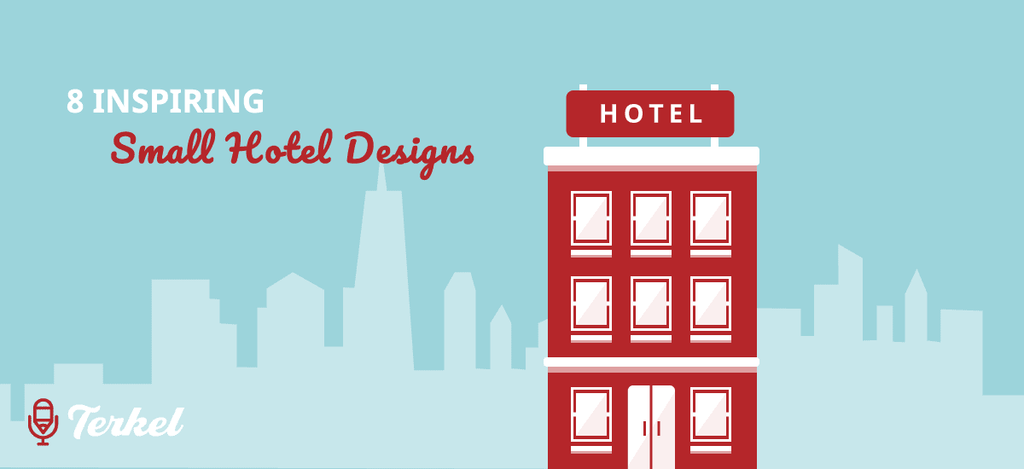 Just because a hotel is small does not mean it can't stand out among its competitors. In fact, many small hotels take advantage of their size to create unique designs and layouts that attract travelers from all over the world. 
Take a look at the following gallery of some of the most inspiring small hotel designs, submitted by a pool of thought leaders.


1. Lake Rabun Hotel
Since we are a nature inspired hotel, we have chosen to incorporate items that come directly from our Appalachia mountains and lake environment. We've relied on local craftsmen to create large stone fireplaces and waterfalls as well as hand crafted furnishings. In our public rooms are chairs, sofas and tables made of mountain laurel, rhododendron and locust logs. Our room signs are quirky with twig lettering. in our private rooms, you'll find tree bark and mountain laurel headboards and sinks made of cedar tree trunk bases and locust slabs, all of this helps us create a natural ambiance that invites our guests to enjoy their 'Back to Nature" time in a comfortable and creatively inspiring way.
Gwen North, Lake Rabun Hotel
2. Arrive Hotel
 Arrive Hotel in Phoenix is opening in Q4 2020 and is designed by Chris Pardo. The newest addition to uptown Phoenix is its first-ever neighborhood hotel: ARRIVE. The Los Angeles-based hotel company is scheduled to open this fall, inside the restored twin towers at Camelback Road and 4th Avenue (400 W. Camelback). The hotel will feature 79 rooms, and a number of unique local offerings – from coffee to drinks by the pool to popsicles. It aims to bring an experience to uptown Phoenix that is for locals, by locals. 
 
3. The Ace Hotel 
The Ace Hotel and Swim Club is a hotel, spa and resort located in Palm Springs, CA. It's on the grounds of a renovated mid-century modern motel, at the foot of the San Jacinto Mountains and within walking distance of downtown. The design is organic and bohemian. Some rooms have a garden patio and some have a fireplace.

4. Andaz Hotel
Andaz properties are vibrant boutique hotels and resorts that act as social anchors in their communities. Located in prime locations, they weave the sights, sounds and tastes of their surroundings to create a truly immersive stay.
Brandon Boetto, SlabHaus
5. Modular Hotels
One of our clients finances modular hotel construction projects. What I find unique about modular construction is that each hotel is able to be completed in less time. When my hometown of Santa Rosa, California experienced the Tubbs Fire of 2017, we lost a lot of hotels. With modular construction, there's a solution that allows our city to rebuild more efficiently from both a time and cost savings. If we're talking about rebuilding my hometown, nothing is more inspiring than doing that in an efficient way. 
Brett Farmiloe, Hotel SEO Company
6. The Camby, Autograph Collection
I am a huge fan of anything from the Autograph Collection but I especially love the Camby. It is modern, quirky, and a really fun place to stay. The decor has a bunch of elements that you are just not going to find in a normal hotel chain. The lobby is bright and welcoming while the hotel lounge is dark and perfect for relaxing.
Lukas Ruebbelke, Briebug
7. Hotel Valley Ho
I love the Hotel Valley Ho in Scottsdale for the design and laid back comforts of time spent on the property and specifically in the room. The area is not cramped, and has details and a special feeling of relaxation in a resort setting.
Nykki Stenger, Insperity
8. Hotel Deux Gares
The boutique Parisian Hotel Deux Gares is designed by English designer, Luke Edward Hall. It's fun colors, patterns and Parisian avant garde furniture is steeped in history. Luke designed the artwork and furniture as well as the interiors for the whole hotel as well as the café. Although small in size, when it opens in Autumn 2020, this hotel will be sure to make a huge mark in boutique hospitality interior design.
Caitlyn Davidian, Home Life Digest